We sat down with Paul Gillespie, Regional Sales Manager, to discuss what sets Banner Stakes apart from other safety barrier brands. An expert in Banner Stakes' safety solutions, Paul joined the company over 5 years ago. During this chat, he demonstrates what makes Banner Stakes' retractable belt barriers so exceptional in the safety barrier market.
Hi Paul, thanks for joining us today! We appreciate the opportunity to discuss Hazard Communication with an industry expert, such as yourself. To start off, what qualities most differentiate Banner Stakes from competitors?
Banner Stakes products are made for the industrial marketplace; think warehouses, distribution centers, manufacturing plants and similar facilities. Industrial faculties tend to be harsher environments than front-end or retail environments and therefore require more durable safety equipment.
We created our products with a harsher environment in mind from the beginning. Our products are made with higher quality, more robust materials, and have features that industrial facilities find useful. In contrast, other brands started with a front-end product which they later modified for industrial use. They may or may not be familiar with the unique needs of industrial facilities.
What distinguishes the quality of Banner Stakes' products from other safety barriers on the market?
Without a doubt, Banner Stakes' products are made from more durable materials than other barriers on the market. From the magnets we use, to the stainless-steel components used inside our units, to our PLUS line stanchions that will not rust or corrode over time, there is a big difference in quality between Banner Stakes and other barriers.
Even the feel of our product is dramatically different. If you were to hold a Banner Stakes' magnetic product in one hand and the leading competitor product in the other hand you would easily feel the difference in both weight and quality.
Tell us a little more about the Banner Stakes' PLUS Line and cart package.
The Banner Stakes cart is lighter, has better mobility, is sleeker, and more modern looking than other carts on the market. Many carts are bulky, heavy, and difficult to push. Our cart is easier to maneuver.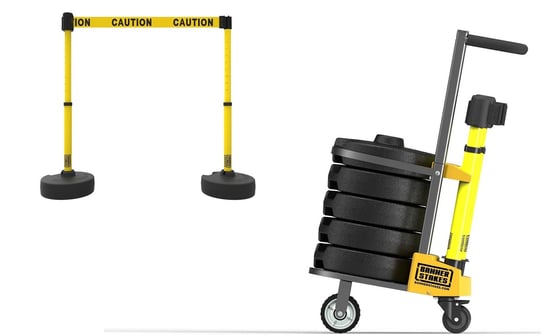 The PLUS Line is a complete safety system, meaning the banner heads are interchangeable. If a customer needs multiple messages, they don't need to purchase a whole other set of barriers, they can just buy the specific banner heads they need and change the belts out as needed.
One feature that really makes the PLUS Line unique is our use of a fillable base. As far as I know, it's the only fillable base on the market. The base of the PLUS Line is empty when shipped out to customers, making is much lighter in weight and therefore more affordable to ship. Once you receive your product you can fill it in-house with water, sand, or any other material. Our bases have a handle which helps prevent employees from hurting their fingers when putting the bases in place. The bases are also stackable and, if needed, you can empty the bases to make them lighter for transport to another location.
Like all Banner Stakes products, our PLUS Line is made from high quality and high-grade plastic materials. The banner head interiors are made with stainless steel components.
What do we need to know about Banner Stakes' Magnetic Line?
Number one, Banner Stakes' Magnetic Line uses a very high end rare earth magnet. Rare earth magnets are mined from the earth. These are superior, very powerful magnets that adhere to metal surfaces with greater strength than regular magnets.
You may pay more for the quality, but we feel it is worth it. The size of our magnet is also significantly larger than competitors. The quality of rare earth magnets means you can expect a long-lasting, more durable product.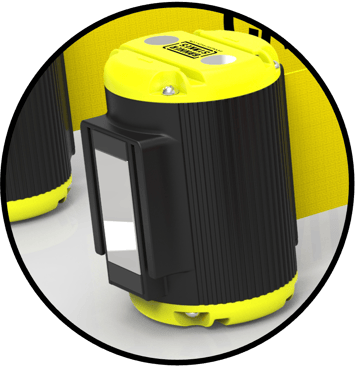 Number two, and this goes for all Banner Stakes products, we use a 2.5" belt, that's 25% larger than other barriers, therefore our messaging is larger and can be seen from further away.
Number three, we give you the ability of mounting our magnetic products in 3 different ways: using the installed magnet on the unit, using the suction cup which allows you to mount to glass, stainless steel, and other non-porous surfaces, or permanently mount the barrier using the tabs on the suction cup.
Is there anything the general public doesn't know about Banner Stakes that they should?
Our use of rare earth magnets is something special that most people aren't aware of.
Another thing would be that our stanchions are retractable, meaning expandable, which gives you the option to increase the height up to 47 inches. Also, our banner heads are interchangeable, which makes changing messaging on the fly much quicker. As we touched on earlier, our cart package has great mobility, making it easy for anyone to maneuver around a facility.
We have a one-year warranty on all of our products. So, if anything goes wrong within the first year of normal use, the customer can get a hold of us or a distributor partner, and we can repair or replace the product free of charge.
What industries would most benefit from Banner Stake's products?
Banner Stakes' products have a variety of applications. To name a few; there's spill containment, ARC flash boundaries, high voltage areas, machine maintenance, lock-out/tag-out, confined spaces, and all kinds of general areas within a facility where you want your people to be protected and made aware of potential hazards.
Any manufacturing facility can definitely benefit from Banner Stakes products as can distribution centers, and facilities using forklifts or heavy machinery.
Banner Stakes is perfect for hazmat situations or chemical spills. Our products are also a good fit for military, police, fire departments, hospitals, and the airline industry, including airports, and aircraft maintenance.
I suggest anyone reading this article that has an interest in Banner Stakes give us a call at (855) 809-3800. Let's discuss the products together. If you have a need or application in your facility, I believe we can help you out.
Ready to enhance your facility's safety with Banner Stakes' innovative retractable belt barriers? Connect with Paul Gillespie via PGillespie@bannerstakes.com or call (855) 809-3800.