It should have been a fun Halloween night on the town - instead the evening took a dangerous, then deadly turn. Last October, in the vibrant Seoul nightlife district of Itaewon, thousands of mostly young people gathered together for a night of Halloween festivities. No one foresaw or planned for what would happen next: one of the most deadly crowd crushes in recent history. Extreme overcrowding on a narrow back alley street lead to 158 fatalities, with an additional 200 people sustaining serious injuries.
A lack of organization and proper safety planning was largely considered to blame for the disaster. Shockingly, no crowd control methods were in place that evening. An investigation determined that the accident was largely preventable. Sadly, if a safety plan and crowd control methods had been used, the tragedy may have been avoided.
Preventing Tragedy
Social gatherings such as parades, weddings, concerts, festivals or other crowded events are where so many happy memories are made. Unfortunately, as seen in South Korea last Halloween, disaster can also can also strike when crowd control is not handled properly.
Keeping a large groups of people safe requires a rock solid plan and the proper tools. A good safety plan should cover all aspects of an event and aim to keep all patrons, workers, and passerbys safe. While the details may differ from event to event, there are some basic crowd control practices that can be applied to almost any gathering.
Let's breakdown the most important factors to keep in mind when creating a reliable safety plan:
Hope for the Best, Plan for the Worst
Effective crowd control is preemptive, not reactive. Your goal is to prepare for a wide variety of situations. Research can go a long way. Knowing what type of event or space you are setting up is a great starting point. Next, look into similar past events to see what worked, what didn't, and what you can do differently. Your best scenario is preparing for the worst scenario.
Here are a few key layout factors to consider:
How many people will be attending your event?
What is the maximum occupancy of the event venue?
Will your venue require restricted or dangerous areas? For example: the launch area in a fireworks display, an outdoor fire, or stage.
Which crowd control methods will you employ? Retractable belt barriers, plastic barricades, signs, or caution tape with cones are common methods.
Where are restrooms located? Are on-site port-a-potties needed?
Is security needed?
If your guests will need to move from one space to another, will they have enough time and space to travel in between?
Venue Capacity
When creating a safety plan, knowing how many people are expected to attend and how many occupants the venue can safely host is crucial. Whether the event is being hosted outdoors or indoor, a maximum occupancy number is a critical number you'll want to know. Violating this number risks a fine or a possibly dangerous situation if a fire or other problem happens.
Often the issue of building capacity is approached with the "counting heads" method. Security officers monitor the venue's entrance and count the number of attendees as they enter the building. When capacity is met, they close the entrance until enough people leave the building to allow new guests to enter, effectively controlling the crowd and the safety of those inside. Crowd control barriers outside the venue can help organize the guests who are waiting to enter.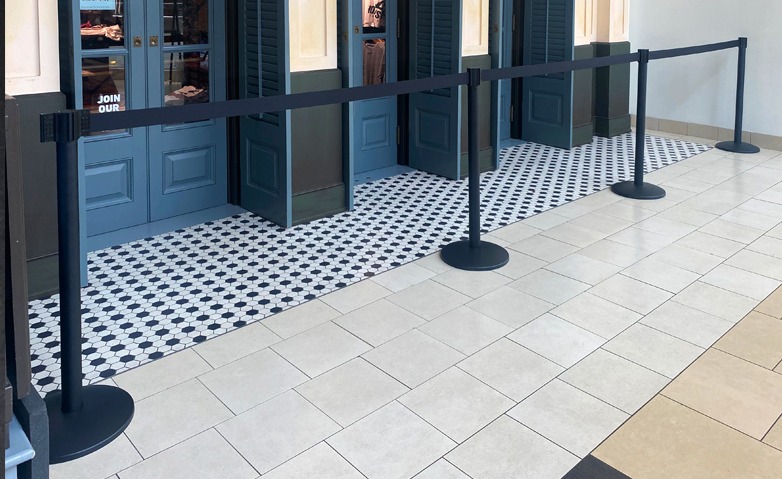 Photo: Crowd control barriers, called queue line barriers, are often used to control lines of people awaiting entrance into venues such as nightclubs
Entrances & Pathways
You'll want to make it easy for your guests to know where to go once they arrive at the event. You can use crowd control barriers to designate paths along with custom signage to display quick information.
Use barriers to organize attendees into lines or provide directions to entering an event area. Be sure to choose barriers that can be easily moved if a layout needs to change, even if the change is spur of the moment. Keep in mind that you may need to change pathways in the middle of an event or extend or widen a walkway due to an unexpected surge of attendees. Whenever possible use signs or custom messaging on your barriers, so that you can use to provide clear instructions, share information or even highlight sponsors.
Set Apart Designated Areas
When hosting an event, there are many areas to take into consideration. For any event with a stage, you'll also want a backstage area for performers to prepare. For guests, you'll want it clear where areas like restrooms or first aid are. At large events, it's a good idea to even have "chill out" areas, especially if it's an outdoor event in hot weather. Having each of these areas clearly set apart will ensure they're not being used as pathways. Keeping them clearly marked with a highly visible barriers or sign helps everyone get to where they need to go.
If your event requires a potentially dangerous area, such as the launch space for a fireworks display, you'll want to clearly mark off the area with barricades so guests know not to enter.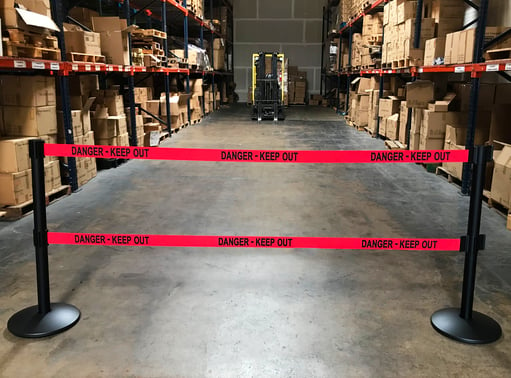 Photo: A brightly colored, dual-belt barrier such as pictured above can help prevent people from entering designated areas.
Make is Easy to Leave
Exits are one of the most important aspects of an event. This one area can cause or prevent many different safety disasters. In your safety plan, you'll want to clearly decide on a method of controlling traffic flow through each entrance and exit. For outdoor events this usually means heavy duty barriers and stanchions. For indoor crowd control, this usually consists of security personnel and queue line barriers.
Make sure that paths to the exits are clearly marked and well lit especially your event will take place after dark. Also, consider having multiple exits or alternates routes in case of emergencies. Ensuring that exits are accessible and able to accommodate more people than in normal situations is vital to keeping your event safe.
Prepare for Worst Case Scenarios
If an emergency situation arises, it can be a challenging task to quickly and efficiently clear a large space. This is why it is crucial to have an emergency crowd control plan in place. Make sure that all of your staff are aware of your emergency plan and are trained and ready to help your guests exit in an efficient and orderly fashion. Know the paths to the exits ahead of time, and make sure they can accommodate everyone leaving at once. Ensure proper lighting, use signage, and mark all exits clearly.
Conclusion
Crowd safety is a crucial part of events, festivals, and other large scale social gatherings, but it's something that a lot of hosts don't think about... until it's too late. It's important to plan ahead and make sure that the crowd control plan you create is reasonable and appropriate for your event.
At Banner Stales, we love creating custom safety solutions and we pride ourselves in providing the highest quality safety barriers available.
Have safety questions about what equipment you'll need for your event? Contact us anytime and let us help you with your crowd control plan today!