Loading docks are where all the magic happens. These are hubs of activity in most warehouses, stores, restaurants, hospitals, and many other businesses. Loading docks are essential to a reliable supply chain - after all its where product enters and exits a facility.
On the surface, dock safety may seem simple, just don't fall off the edge, right? If an employee avoids doing this, everything seems to meet safety compliance regulations - but not so fast. Employers must also take steps to ensure the safety of employees in the warehouse and on dock. It's not enough to let employees know not to fall off the edge, employers must help prevent it and other common accidents.
Most loading docks require some type of industrial vehicle, such as a forklift, to run efficiently and all loading docks have delivery trucks coming and going at all hours of the day and, often night. Being such a busy place where heavy machinery is in use, there are certain best practices and procedures that workers should follow to stay safe
6 Common Loading Dock Safety Hazards
Before we dive into safety solutions, let's take a look at the top 6 most common hazards encountered on loading docks. Some of these hazards are easy to envision, while others aren't as obvious.
Slips, trips, and falls caused by floor conditions or dock edge

Forklifts overturning &

trailer creep - a dangerous gap between the trailer and dock caused by the repetitive forward motion of the trailer

Pedestrian and truck collision

Untrained forklift drivers and workers

Moving unsecured loads

Being struck by an object or load
Loading Dock Safety Tips
Using OSHA's loading dock requirements as a guide, let's now look at some safety tips to help prevent these top incidents from occurring:
1. Keep the Loading Dock Clean
Loading docks, whether at warehouses or other businesses are susceptible to the weather. Leaves and other debris should be regularly swept away. Water can also collect, resulting in dangerous working conditions.
Oil from forklifts can cause employees to slip and fall. Forklifts can also experience problems with slick loading dock floors. OSHA loading dock code requirements state that the floors must be clear of debris and moisture, along with oil.
Keeping the dock area clean is a simple way to prevent many slips, trips, falls and forklift accidents from happening.
2. Forklift Safety - Avoid Trailer Creep
Known as "trailer creep," the motion of a forklift entering and exiting a trailer can cause separation between the trailer and the dock leveler. Drivers may not be able to tell there is a creeping gap as it is easy to misgauge the distance from the loading dock edge in a forklift. This can result in a very serious accident, such as the forklift falling over the edge of the dock or overturning on the warehouse floor.
Tips to avoid trailer creep:
Paint the dock edge a reflective yellow to provide a better view of the dock
Use bright neon tape along the dock's edge to help the driver see the edge
Use protective barriers, bollards, or retractable belt barriers along the edge as a visible or physical cue that the driver is near the edge
Ensure the lighting is bright so drivers can see well
Have one worker remain outside of the forklift to spot any gaps
Install wheel chocks or a

rear impact guard
Banner Stakes offers highly visible, OSHA-compliant forklift warning barriers. If you have any questions about where to start with a forklift safety program, feel free to contact us for more information on our forklift products and services. We also offer a free safety consultation that can give you a better idea if your facility is up to current OSHA safety standards.
3. Limit Vehicle and Pedestrian Traffic
When a forklift is involved in an accident on a loading dock, the injuries are likely to be severe. They may even result in the death of an operator or pedestrian. So, forklift use around pedestrians should always be taken seriously.
A good rule of thumb is to have all unnecessary employees vacate the dock area before loading or unloading begins. This will minimize both pedestrian and vehicular traffic and therefore decrease the likelihood of a collision.
Belt barriers that warn pedestrians that forklifts are in use in the area can also help.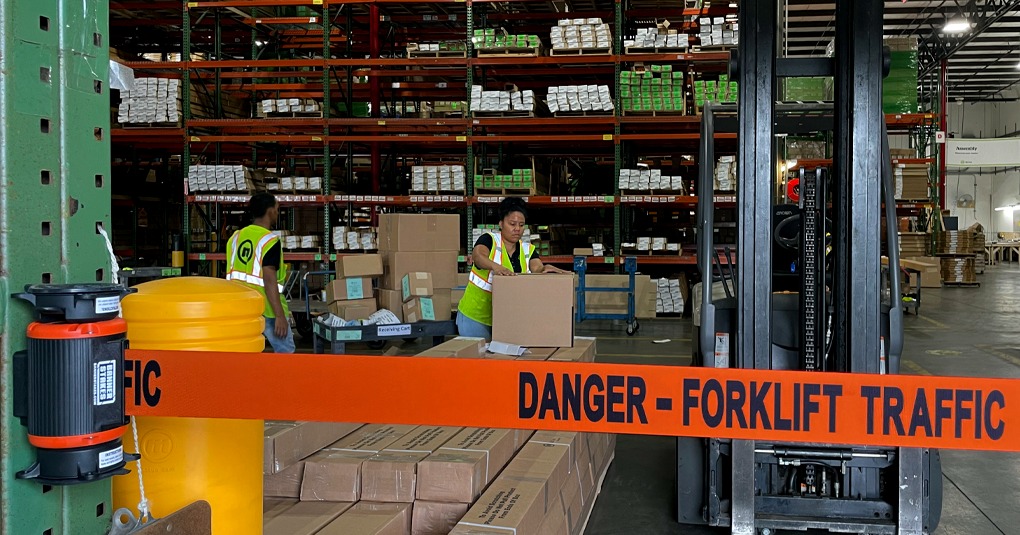 (Pictured Above: Highly visible belt barriers can help warn pedestrians that forklifts are in use.)
4. Train Loading Dock Staff
So much of safety often comes down to training. Workers need to be armed with the right knowledge for the job they are doing and be made aware of any dangers. A simple way to help make your facility safer is by making sure all personnel are trained in dock safety and that the rules are enforced. Make sure training is up-to-date and in compliance with current OSHA standards. Don't allow untrained workers on the loading dock. Lastly, put an inspection program in place to review current safety practices to make sure your facility is on top of it's game.
5. Ensure Trailer Safety
Loading dock fall protection requirements include safety when employees are handling the loading or unloading of a trailer. Ensure the vehicle is parked close to the loading dock.
Ventilation is also key. OSHA loading docks requirements state that employers must ensure proper ventilation to prevent overexposure to carbon monoxide. The poisonous gas is emitted from vehicle exhaust and is fatal if inhaled over prolonged periods.
For more information on how to establish an effective safety training program at your facility, check out our article on workplace safety culture.
6. OSHA Compliant Dock Barriers
A company's loading dock safety checklist must include safety barriers. According to OSHA standard 29 CFR 1910.28(b)(1)(i), a dock that creates a drop of four feet or more must be guarded with a barrier.
Chains, belt barriers, or bars are all OSHA approved methods employers can use to create an effective barrier. The key to choosing the right barrier, is visibility. A barrier cannot help anyone is no one can see it!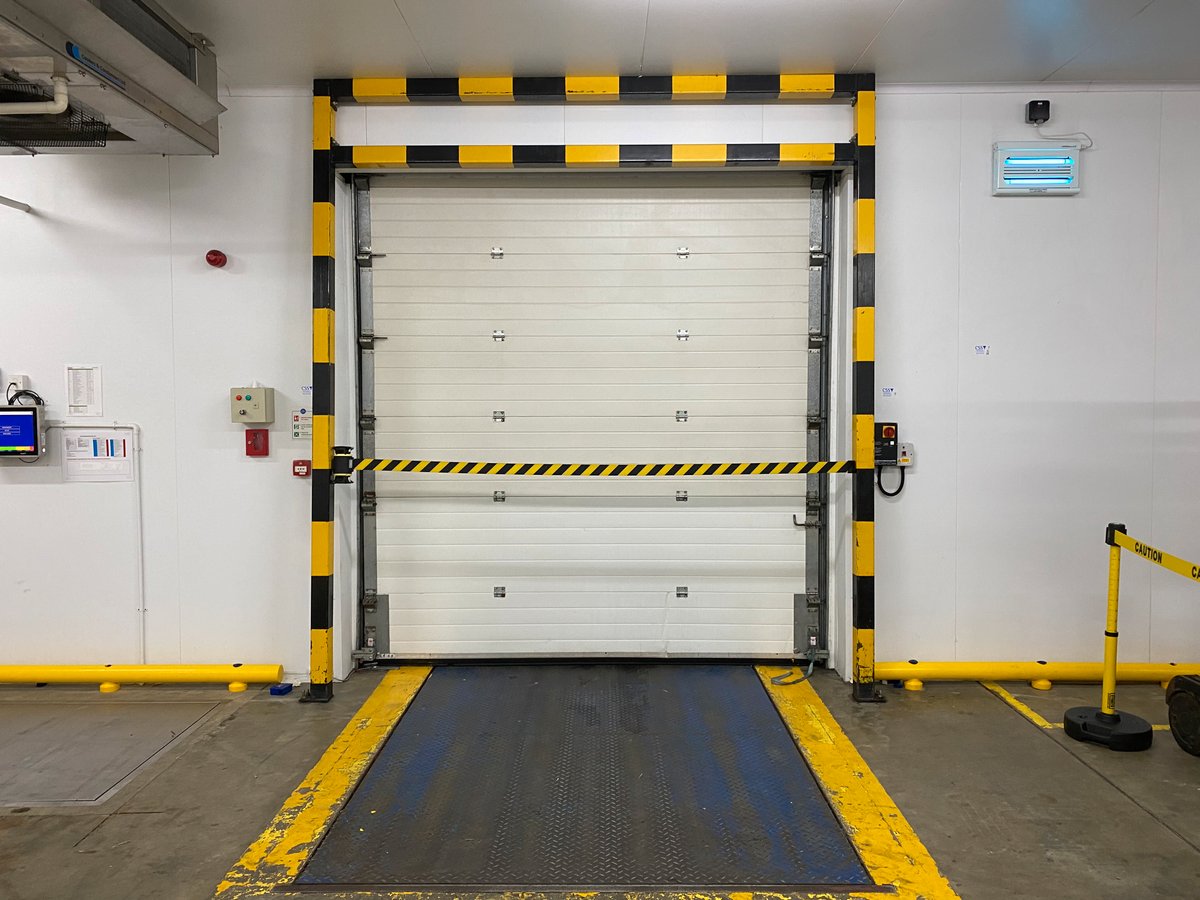 (Pictured Above: Belt barriers offer a visual cue that there is a dock door/drop in the warehouse space.)
Banner Stakes Offers Comprehensive Safety Consulting
Loading dock safety is more than installing barriers. It also requires planning and OSHA-related safety compliance. If your business needs loading dock safety tips or help creating a safe work environment, the safety experts at Banner Stakes are available to help!
Contact Banner Stakes today to schedule a consultation for your occupational safety program or for more information about our barriers.